DESCRIPTION l BIGEN MEN'S SPEEDY COLOUR
Easy & Speedy Application
Just brush in with Applicator Comb tailored for men's hair – covering grey perfectly in 5 minutes. With non-drip & hair-friendly cream, easier to apply hair, even sideburn and waving hair.
Natural & Healthy Looking
Unique formula with conditioning agents (Olive oil, Glycine and Pullulan) gives natural shade, luster and moisture to every single hair, in deeply penetrating into it. Natural and healthy result lasts longer.
Practical & Economical Use
You can use only the necessary amount of cream to cover partially grey hair or short hair. Keep the remainder for future application.
No unpleasant smell will bother you during the application.
COLOUR SCHEME l BIGEN MEN'S SPEEDY COLOUR
INSTRUCTIONS l BIGEN MEN'S SPEEDY COLOUR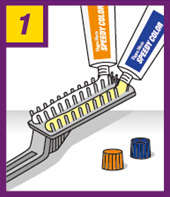 1. PREPARATION

Squeeze out the same amount of cream from both tubes on the Applicator Comb. [1:1]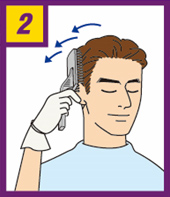 2. APPLICATION / TIMING

Apply cream to dry hair starting from the greyest part. Comb through to ensure even distribution.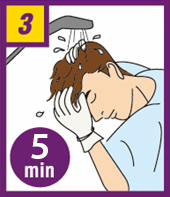 3. DEVELOPING TIME / RINSE

Wait for 5 minutes.
Rinse hair thoroughly with water, then shampoo well.
FAQ & TIPS l BIGEN MEN'S SPEEDY COLOUR
Q1. How many times can I apply per box?

A1. If you have short hair, one box will enable you to cover your whole head twice.

Q2. How long do the colours last?

A2. It depends on the condition of your hair and how frequent you wash it, but the colour will last about 2-3 months.

Q3. I heard that BIGEN MEN'S SPEEDY COLOUR can be used several times, but how many months can I store the product which has been opened once?

A3. If you tighten the caps without any impurity, we recommend you to use them up in 3 months.

When you use the remainder of cream, you will find that the cream around the opening of Cream Colourant (Tube 1) might be slightly darkened. This happens because being exposed to air when the tube was opened for the first application oxidizes the cream. This reaction will not affect the dyeing result at all and you can use it safely. Please take the darkened cream part off when you use.

*You cannot store the creams once mixed. Please make sure to discard them.

Q4. Can Women use BIGEN MEN'S SPEEDY COLOUR?

A4. Women can use BIGEN MEN'S SPEEDY COLOUR without any problem. It is designed for men, but does not affect the colour results even if women use it. However, please note that light shades are not available because it is formulated to suit men's colour preferences, and that the comb is designed to apply on short hair. A product designed for women called BIGEN SPEEDY Conditioning Colour is recommended to women.