DESCRIPTION l BIGEN SPEEDY HAIR COLOUR
Speedy Darkening
Bigen Speedy Covers your gray just in 5 minutes.
Easy & Comfortable Application
Just comb through, apply Non-Drip cream with Applicator Comb.
Enriching & Moisturizing
Unique "Vital-Moisturizing Formula" conditions & protects your hair.
Natural Herbal Extracts
6 Natural Herbal Extracts (Balm Mint, Fennel, Hops, Chamomile, Mistletoe and Yarrow) penetrate deep into every single hair.
Economical
You can use only the necessary amount and keep the rest of the products for future applications.
COLOUR SCHEME l BIGEN SPEEDY HAIR COLOUR
INSTRUCTIONS l BIGEN SPEEDY HAIR COLOUR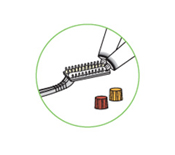 1. PREPARATION

Squeeze cream from tube 1 to fill up one groove on Applicator Comb. Then squeeze the same quantity of cream from tube 2 to fill up the other groove on Applicator Comb.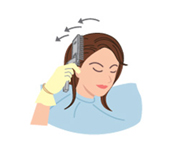 2. APPLICATION / TIMING

Apply the mixture to dry hair starting from the grayest area.
Continue the application until all hair is well covered with the mixture.
Comb through to hair ends for even distribution making sure that every strand is well covered with the mixture.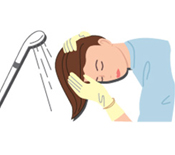 3. DEVELOPING TIME / RINSE

Wait for 5 minutes.
5-minute developing time is recommended when it takes you 7 minutes to apply. Color becomes darker if you leave it on longer.

When the desired color is obtained, rinse hair thoroughly with warm water until water runs clear. Shampoo well and use conditioner as useal.
FAQ & TIPS l BIGEN SPEEDY HAIR COLOUR
Q1. How many times can I apply per box?

A1. If you have short hair to shoulder length hair, one box will enable you to cover your whole head once.

Q2. How long do the colours last?

A2. It depends on the condition of your hair, but the colour will last about 2-3 months.

Q3. I heard that BIGEN SPEEDY HAIR COLOUR can be used several times, but how many months can I store the product which has been opened once?

A3. If you tighten the caps without any impurity, we recommend you to use them up in 3 months.

When you use the remainder of cream, you will find that the cream around the opening of Cream Colourant (Tube 1) might be slightly darkened. This happens because being exposed to air when the tube was opened for the first application oxidizes the cream. This reaction will not affect the dyeing result at all and you can use it safely. Please take the darkened cream part off when you use.

*You cannot store the creams once mixed. Please make sure to discard them.

Q4. Is BIGEN SPEEDY HAIR COLOUR a product for women or men?

A4. It is for both women and men, since their hair structure is the same.