DESCRIPTION l BIGEN POWDER
Easy preparation
Easy to use, just mix with plain water!
Economical
Use necessary amount of powder and keep the remainder for future applications.
Longer lasting
Bigen beautiful and true-to-life colour is long lasting.
No harsh Order
Bigen contains no Ammonia. No heavy masking odor.
COLOUR SCHEME l BIGEN POWDER
INSTRUCTIONS l BIGEN POWDER

1. PREPARATION

Pour Bigen Powder into a NON-METALLIC BOWL or CUP. Add room-temperature TAP WATER (DO NOT use hot or boilling water.) in the proportion specified on the right.

Mix well with a BRUSH to make a homogeneous paste.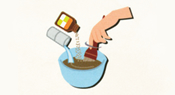 2. APPLICATION / TIMING

Quickly apply the mixture on dry hair. If you are partially grey haired, start application where the hair is most grey. Comb through the hair to ensure every hair-strand is thoroughly covered with mixture.

Wait for 20 to 30 minutes. To adjust your developing time, check colour development several times by wiping a strand of the hair with a cotton ball or paper tissue. Once desired colour is obtained, proceed to rinse your hair.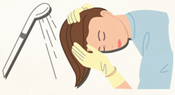 3. RINSE

Rinse hair thoroughly with warm water until water runs clear and shampoo well.
FAQ & TIPS l BIGEN POWDER
Q1. Is one bottle of Bigen Powder enough to cover whole hair?

A1. 62.5 mL of mixture is obtained when mix full bottle of powder with 5 measuring cup of water. This volume is good enough to cover from short hair to shoulder-length hair. You may need 2 bottles if you have long hair.

Q2. How long does the colours of Bigen last?

A2. Up to 2 to 3 months, depending on each individual's hair condition.

Q3. How many months can I store the product which has been opened once?

A3. You can keep it up to 1 year.